Recently, Microsoft announced Windows 365 and we think that it could have a major impact in the future, to how businesses will scale and deploy new computers in their IT environment.
This is because Windows 365 is providing a new category of computing named 'Cloud PC', which is giving you your Windows desktop experience, streaming to any device, anywhere, at any time. The service is also being designed to be very admin-light in terms of its configuration and use, which was a burden when we considered solutions like Citrix and Azure Virtual Desktop, which required an experienced consultant or IT team to manage it for you.
The user experience in Windows 365 will be one where you can simply visit a website and access your Windows Desktop in the cloud and define the right pricing structure that fits your needs in terms of specification. That will take a huge amount of hassle out of your day, especially if you run a small business and having IT resource is becoming a cost to run your desktop setups.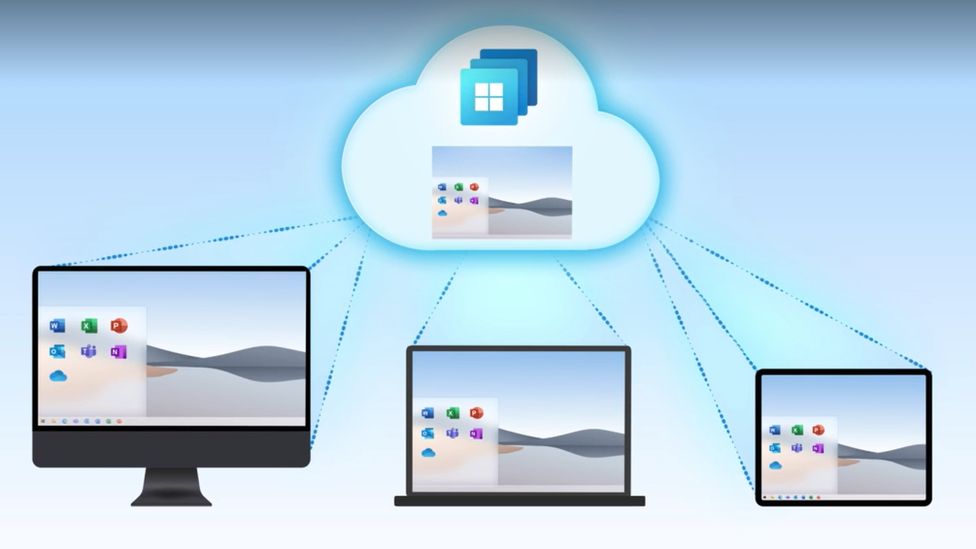 How does Windows 365 work?
In summary, Windows 365 is a virtualised desktop which is homed in Microsoft Azure (Microsoft's Cloud Based Infrastructure Service) and will provide both the scalability and the resilience for your Cloud PC. Therefore, you can use any device to connect to your Cloud PC, whether that's an old laptop you had in a cupboard or your iPad in a coffee shop, if your internet connection is strong enough to stream movies (as an example).
Once you are using your Cloud Desktop, you will have the same experience as using it locally on your own laptop, but of course you may have a higher specification of Windows 365 Desktop in the cloud, versus your own laptop that you are connecting with – meaning you can run those applications and services, which were originally slowing your computer down. Also, let's not forget using that iPad you have, which is a great device, but is lacking the traditional desktop experience you need to get work completed at your local coffee shop.
One massive benefit will also be the internet speeds, as Microsoft is stating that Cloud PC can offer download speeds of up to 10Gbp/s and 4Gbp/s upload speeds, which is hugely faster than what you have at home or in the business today. That is un-surprising because the connection is from within the Microsoft Azure infrastructure, so expect Microsoft 365 services, like Microsoft Teams to be amazingly quick.
But if my data is in a Cloud PC, how can I access my files?
Windows 365 will support the same ways you work today and will come a secure, pre-defined and allocated virtual hard disk, to store your applications and files, which you can access the next time you use your Windows 365 Desktop.
However, of course, we would recommend that you simply use OneDrive or OneDrive for Business on your Cloud Desktop, meaning the files you work with are available across all your devices, versus just having them in your Cloud Desktop only.
Will I need a Windows License?
Windows 365 will offer a pre-defined Windows Build with security patching also enabled, and the price you pay for the service, will more than likely cover your Windows license for using the service. However, we doubt it includes Microsoft Office licenses, so look up the Microsoft 365 Services to gain your product licensing from that route instead.
How will Windows 365 make our business more secure?
There are a few ways we believe that Windows 365 will make your data, even safer in the cloud:
You can enable multi-factor authentication to access your Cloud Desktop through the browser, to ensure that the Cloud Desktop login is secure
You can use Conditional Access policies in Microsoft 365, to ensure that the Cloud Desktops can access content only and other non-Cloud Desktops are not allowed to access business data in SharePoint or E-mail
Cloud Desktop's can be configured in Microsoft Endpoint Manager in Microsoft 365, to apply certain criteria, such as preventing the user being able to copy data from their Cloud PC to their local PC and enforcing other controls like encryption
More importantly, if your staff member loses their laptop on the train to work, the data stored on that laptop will not be business sensitive or critical, and they can simply get a new laptop and log back into their Cloud Desktop immediately without any inconvenience
Sounds great, but what about the pricing?
Windows 365 Cloud Desktops will be priced on the capability of the machine you need, which is because your Cloud Desktop will be utilising shared infrastructure in Azure, which Microsoft need you to contribute to, to run the services. Therefore, if you need a very light machine for word processing, you will be charged a lot less than a graphic designer who needs a more powerful machine for image and video processing.
Unfortunately, as the service doesn't go live until the 2nd August 2021, there is very little we can share on the exact pricing of Windows 365. However, Microsoft accidentally defined the pricing of an adequate Cloud Desktop at $31 Per Month, reported by The Verge, so we would assume around £25 per Cloud Desktop is something to expect, per user, per month.
How this could change your IT Strategy?
Well, desktop strategies have always been challenging, as you need to include your operating systems, device allocation, licensing, device procurement, IT support policies, patching polices and much more. Not only that, you may be already using Citrix as a way to deliver your desktop services to your team, which can be expensive given the infrastructure and support requirements.
Considering all of these areas, if you are thinking about the future, then Cloud PC may be a suitable way to think about the future. What if your company was less device-focussed, and you allowed your employees to use their own devices and they can access their Cloud PC on what ever device they choose, wherever they are in the world. Likewise, Cloud PC could simplify the experience of IT support with having a desktop setup in the cloud, you can focus on the services available to your employees and staff members.
Want to find out more?
We are Inspire Cloud are excited to begin using the service from the 2nd August, so if you have any queries or would like to help getting setup, please get in touch with us.
You can also find more information from Microsoft about this new service at the following resources:
Microsoft unveils Windows 365 Cloud PC